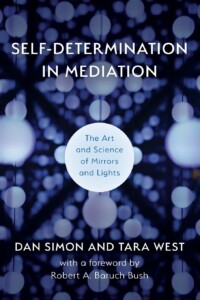 Tara West and I wrote this book as a way to remind mediators that party self-determination is the most important value of the process. A mediator can help clients figure out for themselves what matters, their options, and where the other party is coming from. You can order the book here.
Mediators are often pulled in many directions—they want to help their clients reach a speedy agreement, ensure the agreement is fair, and avoid coercion so they can honor mediation's primary value of party self-determination. Can we have it all?
In this groundbreaking resource, Dan Simon and Tara West illustrate how self-determination can mean much more than the absence of coercion—it can mean the opportunity for participants to increase their sense of agency as they gain clarity and confidence to make their own decisions, including those that express their highest values. Offering psychological research, philosophical principles, and real-life mediation stories, the authors examine where self-determination belongs in relation to other values, such as fairness, protection, and efficiency, as they wrestle with how to apply their principles in particularly challenging divorces, workplace conflicts, and more. Readers will be challenged to think deeply about how their values and assumptions guide their practice, and they will be inspired to more fully embrace their commitment to self-determination.
Editorial Reviews
Review
Dan Simon and Tara West shine a powerful light on the central principle that distinguishes mediation from nearly all other conflict intervention processes: party self-determination. With courage and clarity, they examine this abstract concept with practical examples and candid discussion that reveals the many real ways that mediators either support—or interfere with—party agency, choice, and the possibility of constructive interaction. In the end, the reader is left with a deeper and clearer appreciation for the importance of reflecting on their own (often subtle) practices to support parties as they work through their own conflicts. This is a must-read for all who seek to improve their mediation practice by better shining a light without casting their own shadow on the people who really matter in the mediation room.
— Kenneth H. Fox, founding director of Conflict Studies, Hamline University; senior fellow, Dispute Resolution Institute, Mitchell Hamline School of Law
With the publication of Self-Determination in Mediation: The Art and Science of Mirrors and Lights, Dan Simon and Tara West have made a very significant contribution to mediation literature. Self-determination is a core value of the mediation process and we finally have a comprehensive examination of this important subject. Simon and West apply their metaphor of mirrors and lights to a wide array of real-world scenarios to demonstrate how mediators can best support party self-determination. Everyone who believes in mediation's potential for resolving conflict will find an inspirational road map in this excellent book.
— James J. Alfini, dean and Professor Emeritus, South Texas College of Law Houston
With nuance, candor, humility, and grace, Simon and West illuminate the transformative theory and practice of supporting others' autonomy, empowerment, agency, and freedom. Beyond the mediation room, their approach offers actionable wisdom for addressing the crises of interaction unfolding every day in our Zoom rooms, family rooms, and boardrooms.
— Debra Mashek, PhD, Myco Consulting, LLC
Simon and West demonstrate that preserving party self-determination is what makes mediation a uniquely valuable conflict intervention process. They address the challenges that are involved in sustaining this core value and they provide a range of case studies that vividly illustrate how practitioners can align their core purpose with their intervention practices. An insightful and instructive volume for theorists and practitioners alike.
— Joseph P. Folger, The Institute for the Study of Conflict Transformation, and co-author of The Promise of Mediation
Mediators, prospective parties, and their attorneys may sometimes wonder if it matters what label a mediator uses to describe their practice. In this book, Dan Simon and Tara West make it clear that it does matter. As committed transformative practitioners, Simon and West put self-determination at the center of their respective practices. The authors describe the specific interventions that allow them to honor party choice, and provide detailed examples of the difference this makes to the people involved in the mediation process. They draw from their extensive experience to illustrate crucial moments in a wide range of cases and how and why, and in each of them, they put decisions in the hands of participants. The authors' self-reflective approach to their own practices is evident as they describe occasional slips, acknowledging where they could have done better. Reading this book will help those in the conflict intervention field, and those who seek their services, appreciate that transformative practitioners bring unique value to the processes they guide.
— Judith Saul, fellow and board member, Institute for the Study of Conflict Transformation
Robert A. Baruch Bush and Joseph P. Folger's The Promise of Mediation dramatically sounded a bell that reverberated through and influenced the mediation field. Simon & West further that influence by shining a light on the research of self-determination as an important ethic for mediators and applying it to practice through experience. While 'mirrors and lights' may seem to evoke an evasive and performative 'smoke and mirrors' effect, Simon & West instead use skillful mirroring as a metaphorical prop for the role of the mediator to support party interaction and self-determination, and to highlight party differences without diminishing their agency. It's a must-read for conflict practitioners and anyone in the business of supporting others.
— Kristine Paranica, JD, fellow, The Institute for the Study of Conflict Transformation
Since publication of Robert A. Baruch Bush and Joseph P. Folger's The Promise of Mediation, transformative theory has been much developed, but mostly in academic journals that are not available to practitioners. Here is a clearly written and accessible volume that expands on the important topic of self-determination in mediation and which will be of interest to mediators, conflict coaches, and dialogue facilitators alike. The multiple case studies and examples make the volume highly engaging to read and ideal for teaching.
— Erik Cleven, Department of Politics, Saint Anselm College, and board vice president, Institute for the Study of Conflict Transformation